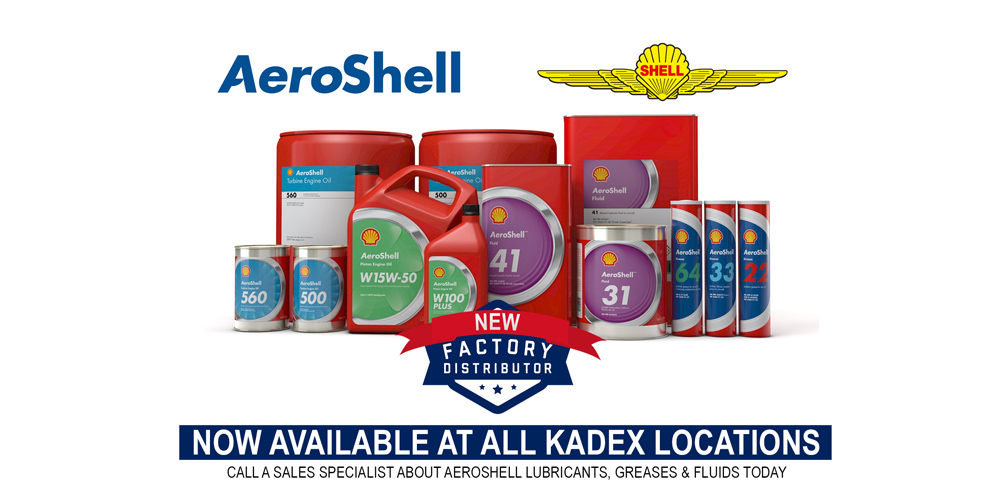 10/24/16 – Peterborough, Ontario – Shell Aviation (Shell) – Houston, Texas has appointed KADEX Aero Supply (KADEX) as an Authorized AeroShell distributor.
Shell provides the global aviation community world-class fuels, greases and lubricants to protect the whole aircraft. As a consistent winner of "Best Technical and Operational Performer", Shell's exceptional portfolio is supported by a strong, ever-growing supply chain. "We are excited to announce KADEX Aero Supply as a new Authorized AeroShell distributor serving the Canadian market. As many in the industry know, KADEX excels in serving customer's needs while leveraging their strong technical expertise. This is a great fit for AeroShell, and we look forward to their support in marketing our extensive line of aviation lubricants, including the "World's Best-Selling Piston Engine Oil," throughout Canada." Luke Byerly, Americas Regional Manager, Shell Aviation Lubricants.
KADEX has been distributing a wide range of aviation products for over 22 years. "We are excited to offer the entire AeroShell product line – Lubricants, Greases & Fluids. AeroShell is a staple in the Piston Engine world having a loyal following and we like to work with companies like Shell Aviation that have a strong history and passion in aviation. Shell is invested in innovation offering a wide range of AeroShell products that will not only lower cost of ownership to customers, but also increase the life of their aircraft" Jordan Lavery, Marketing Manager, KADEX Aero Supply.
About AeroShell:
Shell Aviation is a global company that provides the aviation industry with a portfolio of world-class fuels, lubricants, and associated services. AeroShell offers a comprehensive range of quality lubricants which have been proven around the world to protect the whole aircraft; oils for the engines, fluids for hydraulic mechanisms and greases for the airframe and gearing mechanisms.
About KADEX Aero:
KADEX is a family-owned independent aircraft parts & service supplier. Distributing over 50 different manufacturers and offering repair and overhaul management, tool sales, expertise in maintenance/ technical support, consignment material services, and AOG services. Connecting parts people since 1994, KADEX serves a worldwide market with industry leading solutions. You can trust KADEX to connect you with the right part at the right time with the right price. KADEX CARES! Visit https://www.kadexaero.com for more information.
For additional information please contact KADEX – Jordan Lavery at 888-523-3988 or 705-742-9725 or email jordan@kadexaero.com or parts@kadexaero.com