Aircraft Tires & Tubes
General Details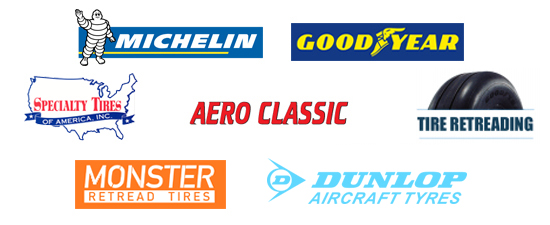 Stocking Michelin, Goodyear, Aero Classic, Specialty Tire, Air Hawk, Monster Retread and More.
Customer Tire Retread available.

MICHELIN® Aircraft is your trusted source of aircraft tires based on their value, their technology, and their performance. Tried and tested engineering you can have complete confidence in whether you fly piston-engine or turbine, recreationally or for business jet aviators. MICHELIN® AIR X® top-of-the-line tire is standard equipment on many aircraft models by leading manufacturers such as Cessna, Raytheon, Mooney and Dassault.
Resources
Technical Information
Michelin Air X

---

Key Features
Benefits
Lightweight radial design
Measurable fuel savings, longer wear life
Optimized treat design
More landings per tire, fewer tire changes
Optimized sidewall compound
Maximum ozone & ultraviolet light protection
Extra-strong radial casing
Enhanced longevity and reliability
Flexible casing
Smoother ride, less tread squirm
Part Numbers:
M13301
M13702
M15101-01
M06201

Michelin Air 

---

Key Features 
Benefits 
MX2000 tread compound 
Michelin's toughest compound for exceptional longevity 
Optimized sidewall compound               
Maximum ozone & ultraviolet light protection 
Air cushion Innerliner 
Protective cushion over the casing plies which guards against inner tube chafing 
"Posi-Fit" bead construction 
 Reduction of movement between the tire and the wheel for improved lateral stability
Part Numbers:
021-327-0
031-613-8
031-613-4
026-524-0
026-528-0
070-314-0
070-317-0
070-367-0
076-345-0
025-350-0

Michelin Aviator 

---

Key Features
Benefits
MX1000 tread compound
 Long-lasting tire
Extra-strong nylon casing
Good resistance to cuts and tears
Specialized sidewall compound
Ozone & ultraviolet protection
Part Numbers:
028-630-0
021-335-1
026-335-1
021-523-0
021-350-0

Michelin Airstop Tubes

---

Key Features
Benefits
Innovative butyl inner tube
Outstanding air retention & exceptional operation
Advanced materials
Long-lasting dependable performance in just about any operating condition
Part Numbers:
097-500-0
092-308-0
092-344-0
092-337-0
Printable Version – Michelin Airstop